Kathryn "Kay" Simmons' grandmother did not sew. Neither did her mother. In fact, before she began her quilting journey, the only sewing Simmons did was in a home economics class in high school, where she cut out pattern pieces and sewed a t-shirt for herself—a t-shirt that actually didn't fit.
So it's remarkable that this summer, Simmons was asked to exhibit her quilts at the Madison Museum of Contemporary Art's annual Art Fair on the Square. To her surprise, she sold several large-scale quilts at prices she was reluctant to assign.
"There was a lot of work involved, choosing the pieces to show and setting everything up," she said. "But I was very pleased to have the opportunity to show my quilts alongside artists from all over the country. And now I really have a better sense of the value of my work. It was really good."
An accidental artist
An accomplished fiber artist, the 82-year-old Simmons began her quilting career almost by accident while working at the University of Wisconsin-Madison as assistant dean of student academic affairs.
One day she stopped in the doorway of a colleague's office to admire a fabric wall hanging. Taken with the piece, Simmons asked her friend where she could buy another one. The co-worker smiled and replied that the handmade quilt was not for sale, but she would be happy to take Simmons on as a student.
"That's how I started," she said, in first grade, making a quilt similar to one she had admired, using lots of fabric and piecing techniques. Excited about the process and the product, Simmons was hooked.
"From there I just kept going," she said. "And when I retired in 2002, it really took off!"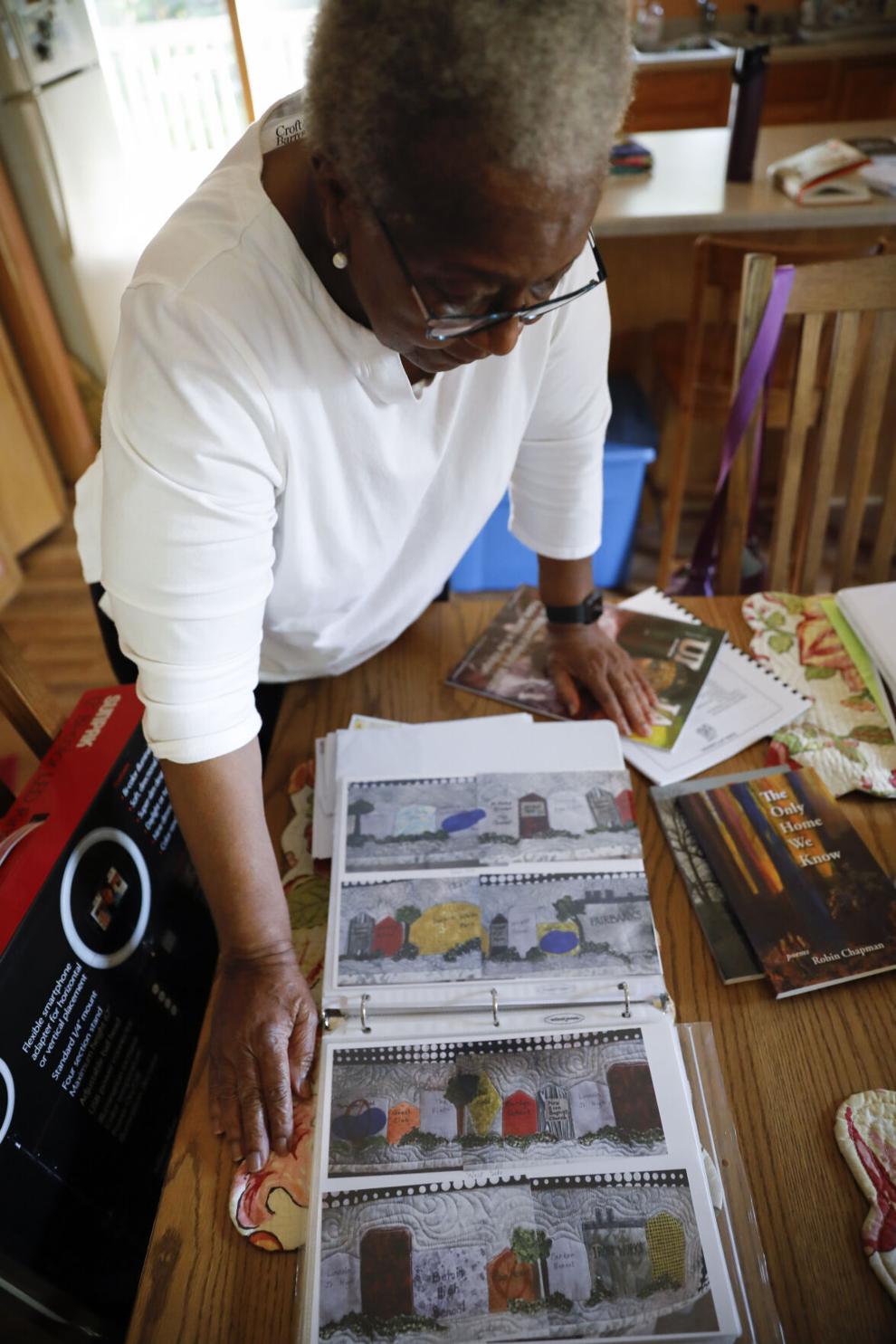 Simmons started making quilts for other people "because they were so amazed when they got something handmade." First it was quilted wall hangings for fellow retirees, then baby quilts for friends and relatives.
Her quilts were exhibited in local shows as well as donated in silent auctions to churches, schools and other causes. They were also created to mark occasions such as family reunions. Some include her family's stories, others evoke a specific time and place.
Simmons' home has all the hallmarks of a person in love with fabric, quilting and design. Several of her large quilts adorn the walls of her living room. Her Pfaff sewing machine occupies one end of the dining room table, and her iron and ironing board sit nearby on a kitchen counter.
New projects are displayed around the room, from fabric bags and sleds to rag dolls. Downstairs, the basement holds a large collection of beautiful cotton prints—some left over from past projects, some waiting to be incorporated into future quilts, and some collected simply because they were too wonderful to be. passed.
"There are no soft colors here," she said. "Only the brave!"
Finding her style
Decades and dozens of quilts later, Simmons still proudly pulls that first project, a "row by row" pastel, out of a storage box to demonstrate where she began her quilting journey.
It's a sharp contrast to her more recent creations, one-of-a-kind works with intense colors that often share pictures and speak to her family history and deeper ethnic roots. Viewing her quilts in order of their creation, the collection is a greatest hits collection of quilting patterns and methods popular during the 1990s and 2000s, taught in classes at area fabric stores and at shows like annual Wisconsin quilt show. Now called the Great Wisconsin Quilt Show, the event runs Sept. 8-10 at the Alliant Energy Center.
With each new sewing skill and style he mastered, Simmons expressed himself a little more. Eventually she created her own quilt patterns in many different styles.
Some pieces are photorealistic, some are whimsical, others are abstract or reminiscent of storybook illustrations. A yarn-painted portrait of a barefoot black girl dancing in a ragged skirt was one of the first pieces to be sold at the Art Fair on the Square.
Others are too personal to sell, such as quilt featuring her schoolmates growing up in Beloit, complete with a border depicting buildings in her old neighborhood. A circle with a slash above the top of some businesses indicates that blacks were not allowed under the segregation of the 1940s and '50s.
Another history collage set in Beloit illustrates the night in 1935 when her 16-year-old uncle was shot by an off-duty police officer as he tried to attend a football game. The newspaper story covering this incident is recreated on the quilt next to a house with a burnt cross, mimicking the one displayed on the family's lawn.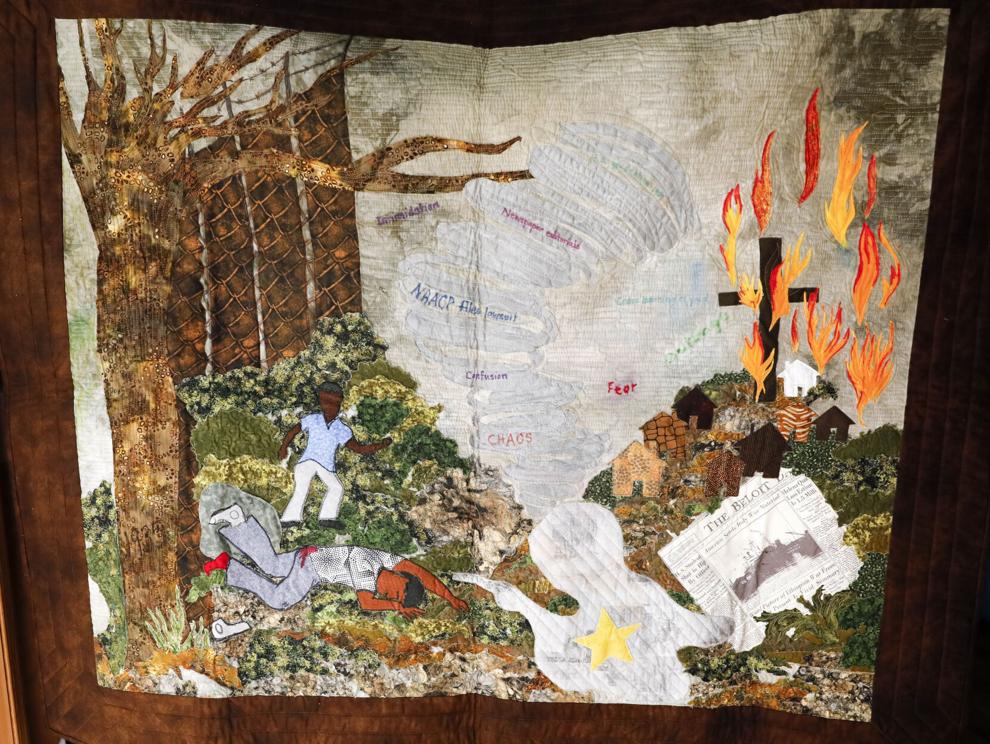 "No one talked about it when I was growing up, so I didn't find out the details until later," she said. "After my family filed a lawsuit against the police department, black men from the neighborhood took turns guarding our house at night to make sure we were safe."
Community at the Creator's House
Many quilters join groups to find community with other like-minded artists. Simmons has been a member of several guilds in the area, but as a black woman in a sea of ​​white faces, she often felt a bit out of place with others.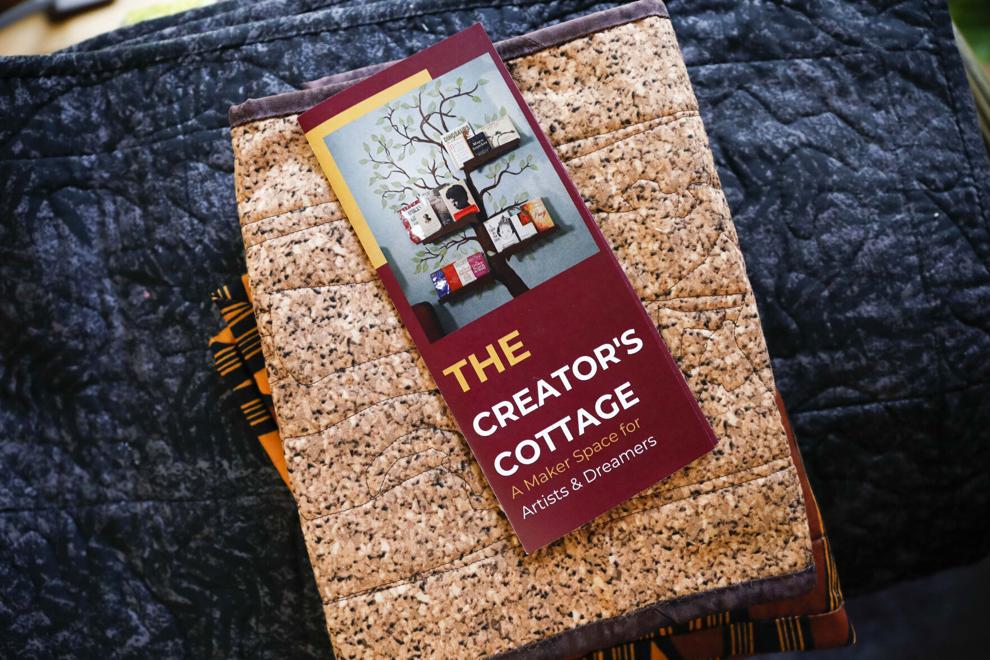 "I would just sit in the back and listen mostly," she said. "My designs didn't really fit their ideas of what a quilt should look like. They are not traditional and use color very differently."
Simmons found a comfortable place at Creator's Cottage, a new creative space aimed at empowering women of color located on Engelhart Drive in Madison. According to its founder, author and entrepreneur Catrina Sparkman, Creator's Cottage is "a creative arts retreat for writers, artists and those who just need to steal away to be alone with God."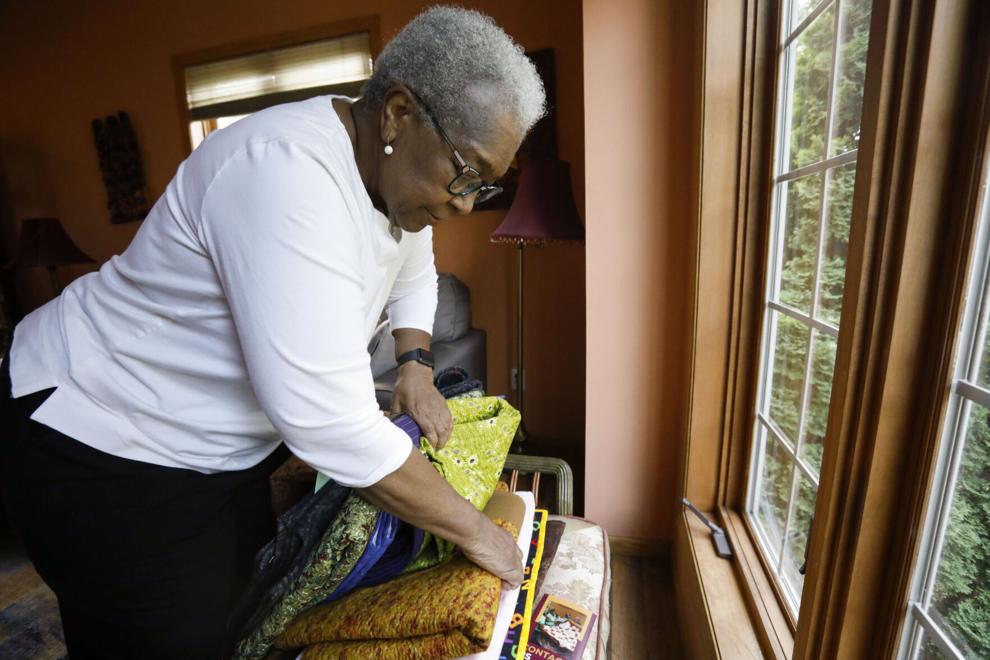 The welcoming space has hosted paint and sip parties, poetry readings, writing workshops and book launches in its first year. It also hosted a trunk show where Simmons could display her quilts, talk about designing them and encourage other black women to get involved in quilting.
"The groups are small. I had about 10 people at a show, which was nice. It's a nurturing environment where everyone feels at home," she said.
At her age, Simmons admits she probably won't be attending many out-of-town quilt conventions this year, but she doubts she'll ever run out of quilt projects.
"I'm still ripe to learn. I still get excited when I see something and I don't know how to do it."