from Ralph Vacchiano
FOX Sports NFC East Writer
of Philadelphia Eagles were something of a surprise last season, especially after an ugly 2-5 start. With a rookie head coach and a first-year starter at quarterback, they somehow made the playoffs.
However, their stay was short.
And for GM Howie Roseman, it wasn't nearly enough.
"We're not happy about the fact that our season ended in the playoffs," he said days after the Eagles' run ended with a 31-15 loss in Tampa. "We want to build a team that will have playoff games at home, be able to play in front of our fan base and really build a team that gets a bye.
"I think until you're really talking about a team that's hosting playoff games at home and getting titles one and two," he added, "you're in building mode."
And boy, did Roseman use this offseason to build.
Raiders, Eagles expected to improve on last year's playoff run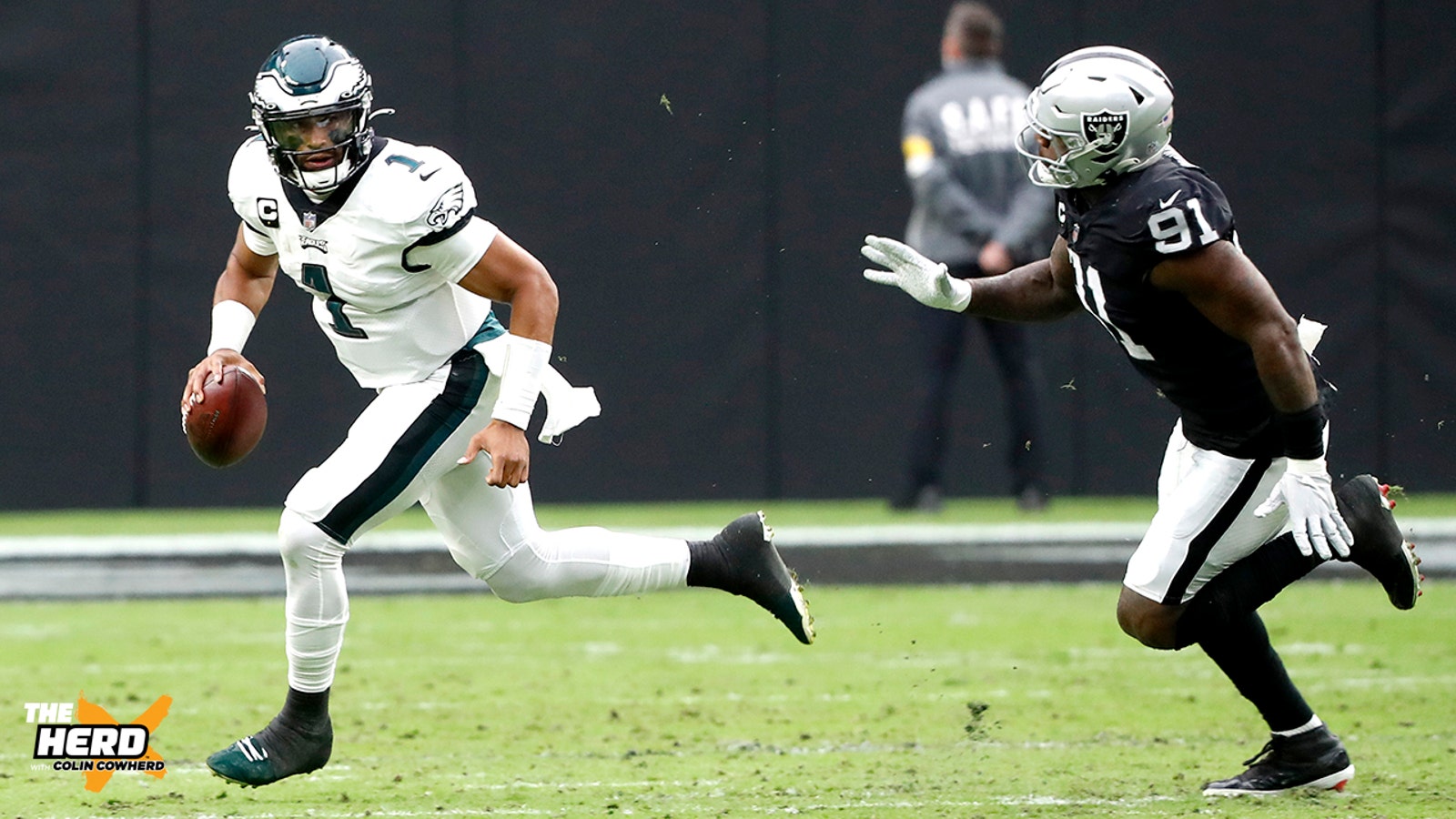 FOX Sports NFL analyst Eric Mangini picks the Las Vegas Raiders and Philadelphia Eagles as the teams he suspects will surprise the league.
The 47-year-old GM, now in his 13th year leading the Eagles, had what might be his best offseason. Loaded with draft picks and stuffed with salary cap space, he seemingly filled every hole on the Eagles' roster. And he added an exclamation point to his offseason on Tuesday, when he pulled off a steal by acquiring 24-year-old safety Chauncey Gardner-Johnson from the Saints in a trade.
The trade for Gardner-Johnson, a promising junior linebacker, seemed to come out of nowhere. But it was clear the Eagles were ready to close training camp with the safety position as one of their biggest concerns.
Roseman doesn't like to leave holes in his roster or unanswered questions. He knew the Saints wouldn't be able to sign Gardner-Johnson, who still has a year left on his rookie contract. Getting him and a future seventh-round pick for fifth- and sixth-round picks was a deal the GM simply couldn't pass up.
But that was really just the cap on his offseason, during which he systematically addressed every Eagles need — with money, trades and picks. A quick summary:
– The Eagles were second to last in sacks last season, so Roseman signed Haason Reddick to a three-year, $45 million contract. Reddick, one of the most underrated players on the market, had 11 sacks last season and 23.5 sacks over the past two years.
– Knowing that rookie quarterback Jalen Hurts needed a No. 1 receiver. As if his 185 catches, 2,995 yards and 24 touchdowns in his first three seasons weren't enough, Brown's specialty is making tough catches over the middle — a spot Hurts rarely threw last year.
– The Eagles needed help in the secondary to fill in for cornerback Darius Slay, so Roseman waited for the Giants and their indecision on whether to keep veteran corner James Bradberry. About a week after the Giants finally cut the 2020 Pro Bowler in early May, Roseman snagged him on a bargain one-year, $7.5 million deal.
– It was clear the Eagles needed to upgrade their linebacking corps, so they didn't just add Reddick. Roseman signed Kyzir White, a tight end starter with the Chargers, to a one-year, $5 million deal. Then, he stopped Georgia linebacker Nakobe Dean's shocking freefall in the draft, taking the potential first-rounder at No. 83 overall.
– Even after giving up a first-round pick to get Brown, Roseman traded a fourth-rounder and two fifth-rounders to move up from No. 15 to No. 13 with his remaining first-round pick, so could draft Georgia defensive tackle Jordan Davis, who Roseman said was "a top-10 player on our board."
And these purchases, really, are just the highlights. Roseman probably could have gotten away with just one or two of those big moves, or even just a series of changes. He already had a team with the no. 1 rusher in the NFL, one of the best offensive lines in football and a defensive line with top-10 talent. The Eagles were already headed in the right direction after a 9-8 season under rookie coach Nick Sirianni, who helped pick up the pieces from their 4-11-1 nightmare a year ago.
The Eagles were projected to finish atop the NFC East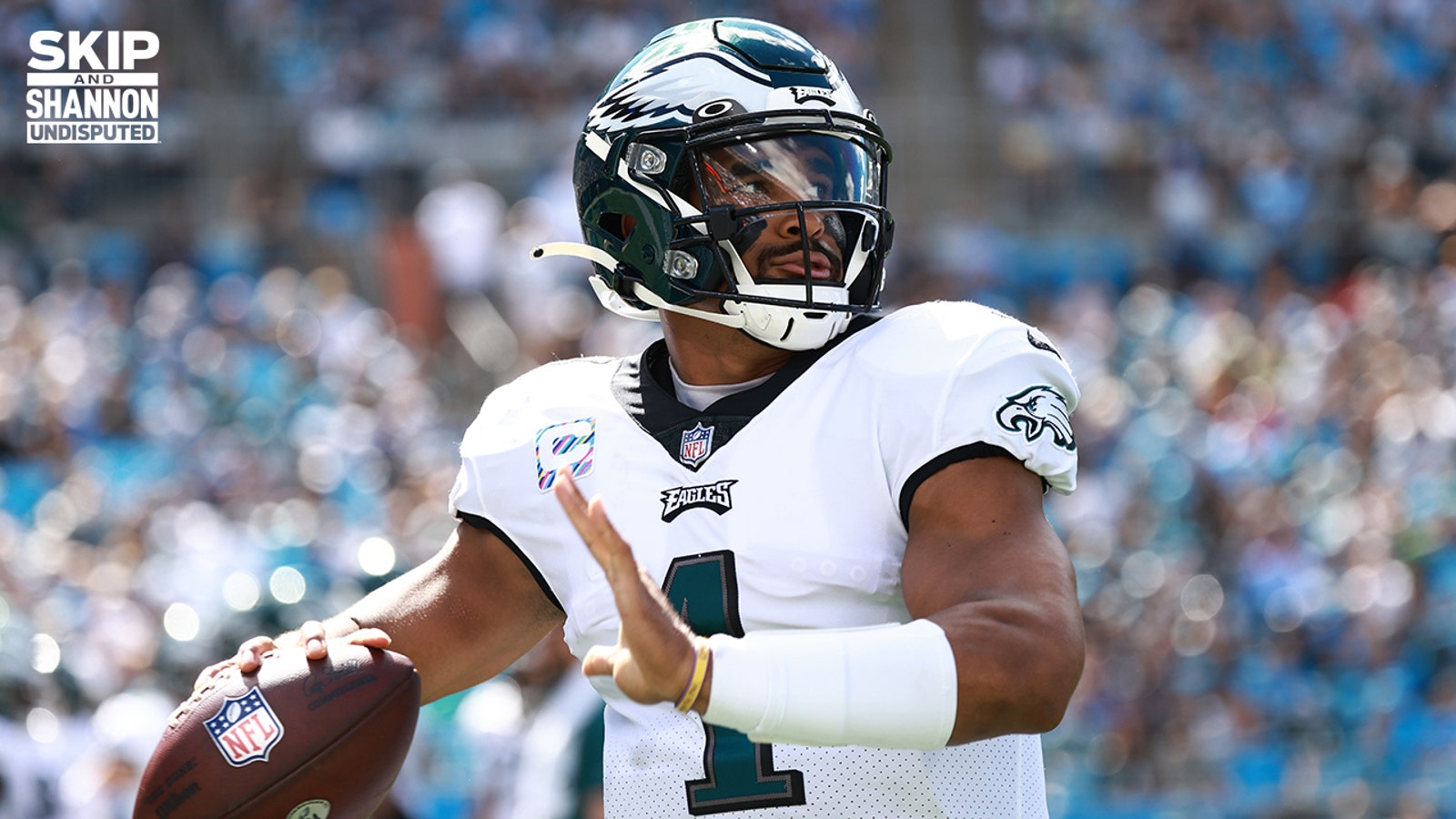 Last month, USA Today predicted the Eagles would win the NFC East over the Cowboys. Skip Bayless and Shannon Sharpe react to this report and discuss which team they think will win the NFC East.
They were supposed to be rebuilding, but Roseman's super busy offseason has made it look like that process is almost complete. Much will depend on the development of Hurts, who has a long way to go to prove he can be a franchise quarterback. But in a weak NFC East and with all the true powerhouse teams in the other conference, if Hurts even matches last season's performance, the Eagles really could be a Super Bowl contender in the NFC.
If that sounds premature … well, Roseman seems to agree. Remember, his second season in charge of the Eagles was when he put together a so-called "dream team" that fell short of the expectations of all his offseason moves and finished a disappointing 8-8. It took two years for Roseman to get the Eagles out of that mess.
So he knows what's on paper doesn't always translate to what happens on the field.
"I think [one] the thing we talk about a lot is that our most talented teams haven't necessarily been our best teams," Roseman said when training camp began. "You can have all this talent, but they come together and put the right pieces together in the country is the most important. thing."
It will probably take some time to fit the pieces in place this time around, but Roseman did what the best general managers do: He got what he believes are the "right pieces." He didn't sit back and wait for players to develop or wait for players to fall to him in the draft.
That might have worked in the NFL of 20 and 30 years ago, but this is a much more aggressive, creative era with general managers who seem to have no patience at all. The Los Angeles Rams showed over the past few years how a team can spend and build itself into a Super Bowl contender and champion. Roseman has learned these lessons well.
Whether it all works remains to be seen. But the pieces are there for the Eagles to be something special.
Roseman made sure of that.
Ralph Vacchiano is the NFC East reporter for FOX Sports, covering the Washington Commanders, Philadelphia Eagles and New York Giants. He spent the previous six years covering the Giants and The Jets for SNY TV in New York, and before that he spent 16 years covering the Giants and the NFL for the New York Daily News. A native of Long Island, NY and graduate of Syracuse University, he can be found on Twitter at @RalphVacchiano.
---
Get more from the Philadelphia Eagles Follow your favorites to get information about games, news and more.
---
---